Sunday Mar 12, 2023
Fighting Underground - Sub-Terranean Military Operations in the near future. [Podcast Ep. 7]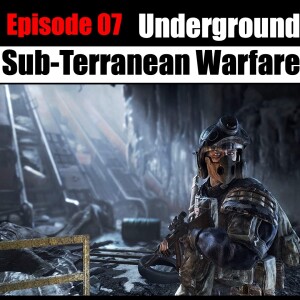 Humans have fought underground for as long as they have been fighting each other, but as combat has evolved with technology, and as humans have built increasingly sophisticated structures underground, there is an emerging next-generation warfare as a subset of urban combat: Subterranean, AKA Sub-T.
Blacked out comms, difficult logistics, overpressure from gunshots, explosives, extremely short distances mixed with intermediate length axes of approach. Lack of air.
We sat down with Ashely, an infantry officer turned simulations officer and discuss what her thoughts on this nightmare scenario of urban combat could look like, and how we could survive it.
Podcast Episode 7 - Featuring  @9HoleReviews  and  @_angel_of_verdun5119  Brought to you by  @midwayusa 
——————-
The views and opinions presented herein are those of the author and do not necessarily represent the views of DoD or its Components. Appearance of, or reference to, any commercial products or services does not constitute DoD endorsement of those products or services. The appearance of external hyperlinks does not constitute DoD endorsement of the linked websites, or the information, products or services therein.
———————
We have a discount for Slate Black Industries MLOK accessories! 👉 www (dot) slateblackindustries (dot) com Discount code: 9HOLE Shopping on Amazon? Do you like sweet [yet tasteful] gun morale patches? Shopping with this link costs you nothing, but helps support our channel 👉 https://amzn.to/3trn9ju __________________________________________________________________ We love mail: 9 Hole Reviews 21175 Tomball Pkwy. No. 480 Houston, Texas 77070 Original podcast: